South Park Commercial Center
The South Park Historic Commercial Center is a collection of historic bulidings located on one half of a city block located between Juniper Street on the north, Ivy Street on the south and between 30th street on the west and Fern Street on the east in the community of South Park in the City of San Diego. The building include Fire Station #9, the oldest standing fire station in the City of San Diego built in 1912, the Burlingame Garage, built in 1914 and the Rose Grocery Building built in 1924. The entire project contains 12,607 sq. ft. of building improvements on 15, 068 sq. ft of land divided into three legal parcels. Each building was retrofitted structurally, along with upgraded electrical, plumbing, air conditioning, interiors and exterior facades.
The South Park Commercial Center embodies distinctive architectural elements that retain their integrity of location, design, setting, materials, workmanship, and association. These buildings reflect the growth of this urban neighborhood and the commercial enterprises that arose to meet the needs of the community. The commercial center is varied in that it contains a pre and post Panama-California Mission Revival commercial store (Rose Grocery, 1923), the last surviving and oldest Craftsman style fire station in the City of San Diego (Fire Station No. 9, 1914), one of the earliest automobile garages in Mission style commercial architecture in South Park (Burlingame Garage, 1914), and an excellent example of early automobile gas station commercial architecture (Munter & Munter Gas Station, 1925).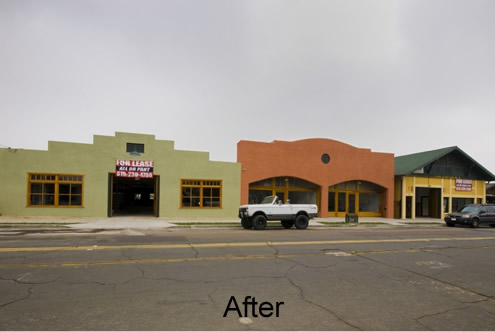 Click Image Below to Enlarge
Historical Photos
Before
After