Emerald Shapery Penthouse
As a part of the consideration for the formation of the Emerald Shapery Center joint venture between Mr. Shapery and the Tokyu Corporation of Japan, Mr. Shapery reserved back a 99-year leasehold interest for a nominal consideration of the top two floors (26 & 27) above the hotel portion of the development project for Mr. Shapery's private residence. The penthouse, which is the top stop on the glass enclosed elevators, contains approximately 4,500 square feet of interior living space, plus 1,000 square feet of outdoor terraces on the 26th and 27th floors. The project heliport is located directly above Mr. Shapery's master suite. The Emerald Shapery Penthouse has been used as a film location in over 20 movies, and television shows.
It is available for events, parties and film production on a daily basis.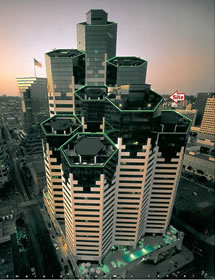 Click on an image below to enlarge